Professor Curt Enzell – a living legend
There are many different stories about how portioned snus came about. And According to one of the stories, at a nursing home in Gothenburg in the 1960s, the nursing staff got tired of all the loose snus spilling from the elderly men who used their wet snus day in and day out. So one day, they chose to contact Svenska Tobak's snus factory in Gothenburg and ask for a solution, a product in which the moist snus instead of having to be baked into a 'prilla', already was put into a bag, perhaps similar to the tea-bag, which would solve the problem of snus spilling.
It was common for many of the staff at hospitals and nursing homes that they needed to "bake" snus for elderly men, and that they were tired of this is most certain. But that the idea only came from them is actually not true. We have Curt Enzell, professor, engineer, scientist, and former head of research at the former Tobaksbolaget, later Swedish Match, to thank for the fact that portioned snus became a reality.
The father of portioned snus
During the early 60s, research showed the harmful sides of smoking, and the Swedish Tobacco Company's (Tobaksbolaget) head of research, Curt Enzell, was worried. He himself was an inveterate pipe smoker, as well as a tea drinker. And it was in the staff room at Tobaksbolaget that it one day happened. A pair of scissors, a tea bag, and a good idea - that's how the portion snus was invented.
"I then realized that I had to stop smoking and then tried snus but found it tacky, unhygienic and difficult to handle in the mouth during conferences and meetings as it ran and got stuck between the teeth." - Curt Enzell
We have Curt Enzell to thank for the portion snus. After the idea was born in the staff room, it didn't take long before Tobaksbolaget's CEO, Olof "Olle" Söderström, saw the possibilities with Curt's handmade 'snus bags' which he used snus daily in the lab. But what did Curt get for his revolutionary idea? An informal thank you and a check for SEK 3,500. It's about time he was properly celebrated. That's why we wanted to reach out to Curt and ask if he would be willing to do an interview. And through the snus enthusiast and entrepreneur Bengt Wiberg, who has long had Curt as a mentor and close friend, we were able to reach Curt with our questions, admiration, and gratitude.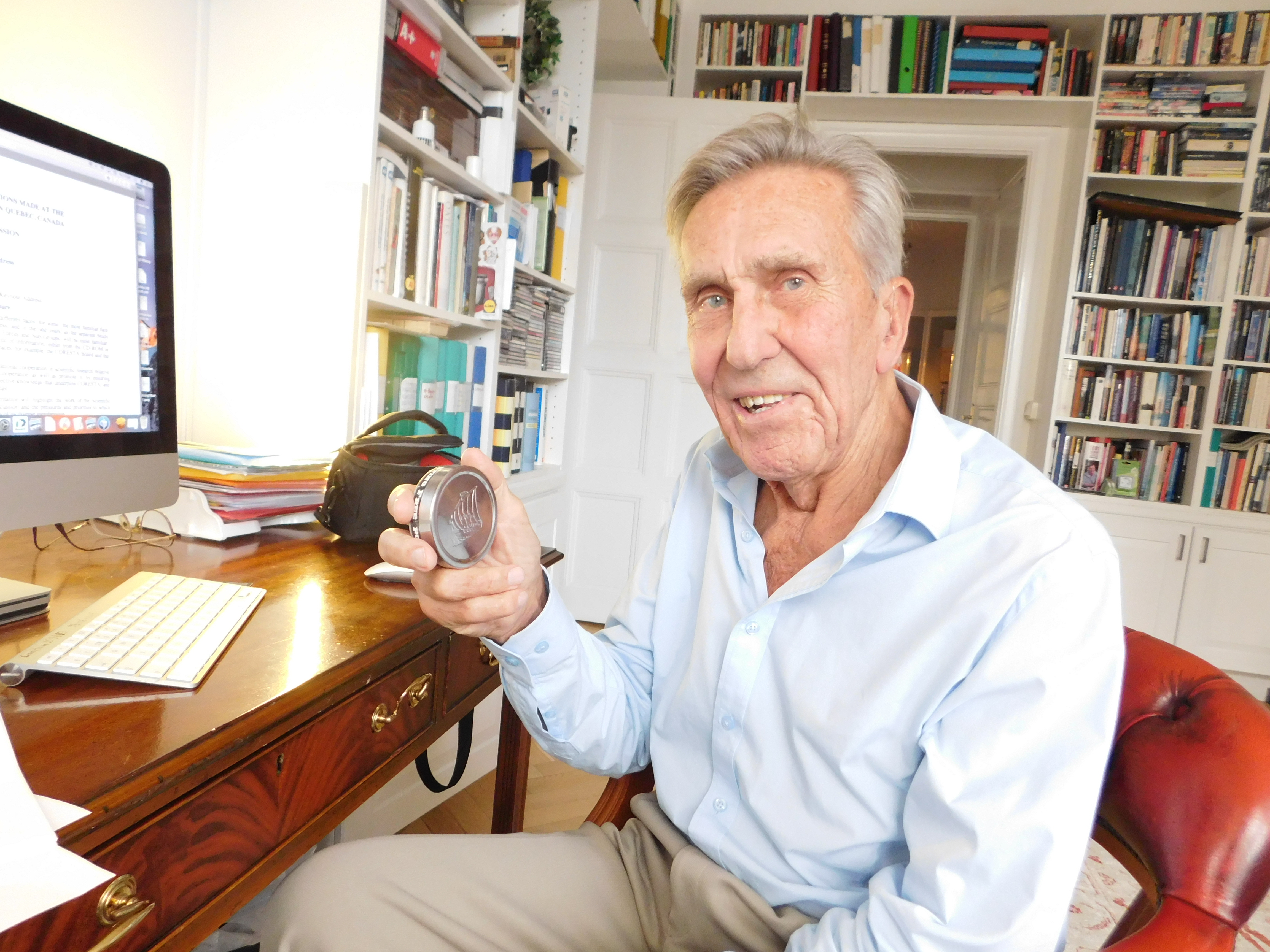 Curt Enzell. Photo: Bengt Wiberg.
SHORT ABOUT CURT ENZELL
Name: Curt Rickard Enzell
Age: 93 years (2022)
Residence: Residential property in Östermalm and Slite on Gotland.
Family: Spouse with Meg Tiveus, board professional with 18 years on the Swedish Match board (1998-2017), former CEO of Svenska Spel, etc. Curt has two children of his own and two grandchildren.
Education: MSc engineer KTH, Doctor of Technology in organic chemistry, Docent and professor.
Favorite hobbies: Golf, the house by the sea on Gotland, spending time with friends.
Favorite food: Fried beef filet.
Favorite snus: I snused from 1967 until 10-15 years ago. Then snused Tre Ankare and other varieties.
INTERVIEW WITH CURT ENZELL
In addition to finding out more about what was the origin of the portion bags, we also wanted to know more about the man behind the invention. We therefore asked Curt to tell us about himself.
Would you like to tell us a little about yourself and your upbringing?
"My parents were self-employed. My father was a master painter and only had 6 years of public school education. My mother had two companies of her own in the laundry industry. I grew up on Östermalmsgatan 3. Went to school at Norra and Östra real and later the Swedish Royal Institute of Technology (Kungliga Tekniska Högskolan - KTH)."
Are you, or have you been, using snus?
"Until mid-1967 I was a heavy pipe smoker until I started reading all the alarming research on the harmful effects of smoking and realized I had to quit smoking. I therefore used "bagged snus" right up until around 2010. It was inconveniently difficult to stop snus, but I felt in the autumn of my years that I sort of outgrew the habit and since then have not used snus or used any nicotine product at all. When I stopped, I still 'bagged' my snus myself."
You started working at Tobaksbolaget in 1964 after you spent two years in New Zealand on a scholarship and worked after your studies. What was your position there and later at Swedish Match?
"I did my dissertation at KTH in 1962. The Tobacco Company (Tobaksbolaget) immediately offered me a job to set up a research lab, but instead, I worked for a while in New Zealand as I received a "Senior researcher fellowship" for two years from the New Zealand state. Throughout the years, only two such research positions have been awarded per year. In 1964, I was once again scouted by the Tobacco Company and started the Tobacco Company's very first research department as the company's head of research. I got about four employees at the start. After a few years, we had about 12 employees for whom I had full responsibility. The fact that over the years I have become the author and co-author of over 700 scientific publications is due to the fact that we researched both broadly and deeply. My research department and I thus came into contact with researchers from all countries of the world, and often they needed our help. Hence so many dissertations with me as co-author in various ways."
What attracted you to the job at Tobaksbolaget ("The Tobacco Company")?
"Research around smoking, aromas and nicotine products was not that well developed when I started, and it was therefore a researcher's dream to find new knowledge about products with almost a billion consumers."

How long did you work there?
"I worked at Swedish Match until my 64th birthday in 1995, i.e. for 31 years, and retired the following year, however, I was a very active retiree."
Can you tell us what you did at Tobaksbolaget before the portioned snus project started?
"I did research on the aromatization of tobacco products among other things. I am particularly proud to have nurtured several people to later become professors and docents under my mentorship. You can also jokingly say that our research aimed to "keep smokers alive" with research into harmful content in tobacco, cigarette filter technology, etc. Even before I started at Tobaksbolaget, I researched natural products, scents, and flavors. As head of research at Tobaksbolaget, I looked at additives in snus, the tobacco content itself (there are hundreds of tobacco varieties in the world and their chemistry differs and how the aromatization differed when the tobacco was ground down to become snus and cigarettes.)."
What was the seed of your brilliant idea - the portion snus?
"Until the middle of 1967, I was an inveterate pipe-smoker until the first alarming reports began to come from above all the USA and Europe about the harmful effects of smoking. I then realized that I had to stop smoking and then tried snus but found it tacky, unhygienic, and difficult to handle in the mouth during conferences and meetings as it ran and got stuck between the teeth.
Since I have been a notorious tea lover since my youth and the Tobacco Company (Tobaksbolaget) provided free tea in the coffee room, I got an idea. I emptied a tea bag of its contents and cut the empty bag, filled the smaller cut bag with loose snus, and then rolled it up again and found that both taste and nicotine experience worked. That way I could enjoy the snus without the mess of it and could therefore throw away my pipes and smoking for good.
The tobacco company's CEO, Olof "Olle" Söderström, often visited me in the lab and was fascinated by how I put snus into tea bags which I handmade on the spot. Olle was a lawyer and not the least bit tech-savvy, but he had a good sense of business and what could be good ideas commercially. However, he did not want to put a professor (me) on such a simple task as developing the technology and inventing machines to package portioned products, so he appointed a newly graduated civil engineer from KTH named Tommy Ringberger. Tommy was stationed in Gothenburg and took over the entire bag snus project. A separate research group for portioned snus was thus formed in Gothenburg. Olle Söderström honored me with a gratuity for coming up with the idea for the pig snus in the form of an informal acknowledgment and a check for SEK 3,500. It wasn't a lot of money even in those days, but it was honorable anyway."
Cutout from Svenska Dagbladet 1967 writing about Curt's new invention.
How long did it take before the portion similar to/is the one we have today was created? And how was it received by the outside world?
"From the time that Tobaksbolaget's CEO Olle Söderberg was fascinated by seeing me snus their products in a bag until seeing the result similar to what we have today on the market took about 10 years. Svenska Dagbladet already wrote an article about my invention in 1967. When the first factory-produced portion snus came on the market in 1973 (Smokeless), all of Sweden's newspapers wrote about it. Many articles and even "Rit-Ola" were humorous. Nobody thought at the time that it would become a worldwide hit."
'Smokeless' was launched in 1973 and was the first portioned snus in stores. Although this particular brand was not a success, the new format came to be highly appreciated by snusers. Photo: snus and Match Museum
Which portioned snus was the one that caught on with consumers and meant that portioned snus was here to stay?
"Snus master blender Christer Magnusson joined the Gothenburg group after a few years and was the one who developed what would become the first really successful portioned snus; Tre Ankare. The first attempt was a rather unconvincing product called Smokeless with a whiskey flavor. The unique thing about it was that it was completely aimed at smokers. The smokers at the time, however, seemed to believe that the cigarette filter that came to Sweden in the mid-1960s made smoking less harmful. It was lucky that my invention, i.e. the portion snus through Tommy Ringberger's diligence, became a consumer product. At the end of the 1960s, the Tobacco Company held discussions about completely stopping the production of snus because cigarette sales were completely superior to snus. Portion snus and all the flavors that were added over the years caused hundreds of thousands of smokers to switch from cigarettes to portion snus. One can therefore easily realize that the advent of portioned snus was an invention that over the years contributed to the improved public health of hundreds of thousands of Swedes by contributing to harm minimization on a scale never seen before."
Why do you think Tre Ankare - succeeded better in the market than Smokeless?
"Smokeless was not a success. It was a product intended for smokers during a time when smoking was most popular and associated with "status". It was perhaps a product ahead of its time. The 'snusers' (people using snus) at that time wanted their traditional tobacco flavors. Smokeless, which had a whiskey flavor, was probably therefore too modern. Tre Ankare was more reminiscent of the classic snus with a strong tobacco taste and moisture content and was a success in contrast to Smokeless, which disappeared from the market."
What do you think the result of the portion snus was?
"I think it is one of the main reasons why Sweden has the lowest percentage of smokers in Europe and therefore has the lowest percentage of tobacco-caused diseases such as lung cancer, mouth cancer, other cancers and cardiovascular diseases. It is gratifying that portion snus has since spread to Norway and that we see the same development there, i.e. that smoking is greatly reduced. In the 1970s, the proportion of smokers in Sweden was at its absolute peak and snus use was at its lowest in 100 years. Portion snus reversed this development. More and more research on the harmful effects of smoking also helped, of course. It was also at the end of the 1970s that research began on the most Swedish thing we have, i.e. snus."
Curt Enzell and Bengt Wiberg. Photo: Bengt Wiberg
A big thanks to Curt for for being willing to do an interview - thank you for your great idea, you are the father of snus! You and the portioned snus will go to history!
Interview with Bengt Wiberg
Bengt Wiberg, who helped us get in touch with Curt, is also a snus innovator and entrepreneur. Therefore, we also became curious about his work. Luckily for us, he agreed to an interview and told us more about his relationship with snus and how he came to be a snus innovator.
Short about Bengt:
Name: Bengt-Olof Wiberg
Age: 65 (2022)
Lives: Housing right on Lidingö, summer house in Almunge (Uppsala)
Family: Married to Jane since 1978, three children (Daniel, Bianca and Martin) and six grandchildren.
Education: Bachelor of Economics, Linköping University
Favorite activity: Family (mainly the grandchildren), Snus and nicotine portions as well as tobacco harm reduction, movies and karaoke.
Favorite food: Shredded beef steak simmered in Porter with mashed potatoes
Favorite song: A Day in Life with star guitarist Jeff Beck (wonderful Beatles song)
Do you use snus? Yes, the own product Stingfree Strong Blue Mint tobacco-free nicotine portions as well as Grov, General and LD Salmiak, all in a self-modified Stingfree version.
How did you get into snus - as a career?

I am a former smoker who managed to quit with the help of snus and nicotine portions. About 10 years ago, my gums and oral mucosa were in hellish pain and it didn't look very fun when I lifted my lip, so I saw my dentist urgently. The dentist (Peter Löfgren at Lidingötandläkarna) "ordered" me to stop using snus. His diagnosis was red and extremely irritated gums, partially retracted gums ("gingival retraction"), and a snus lesion (snus pit-like white/grayish elephant skin in a pit) in the oral mucosa at the snus placement site. The following year, at the annual dental check-up, Peter stated "I see you've stopped snus Bengt". I replied that I had not at all. Instead, I solved my problem by putting a plaster on the gum side of the prilla (snus-pouch) to protect the gums. The stinging stopped immediately. My grade of 3 out of 4 on a scale of snus lesions disappeared already after a couple of months. My gums quickly went from red and irritated to pink and healthy. My gums stopped pulling up.
After a couple of years of bag patching, I got tired of this. I wanted to buy ready-made snus that protected the gums and did not sting. In the end, I went to Startup Stockholm and got to meet a wonderful innovation advisor who turned out to have many friends who use snus and who have gum problems, and who disliked the sting. He, therefore, approved both one and two state innovation grants for me to move forward with my invention.
I got in touch with a dentist at the Karolinska Institutet, who did his doctorate on snus and snus lesions, who helped me and believed in my idea from the first moment. Ann Roosaar, as she is called, then passed me on to her mentor, Professor Tony Axell, who was a world authority on odontology and snus. Tony was a specialist who taught me most of what I now know about oral health and oral anatomy. Not everyone knows e.g. that gums that are destroyed cannot regenerate and reform. snus lesions in the oral mucosa, on the other hand, disappear in a few weeks if you stop snusing completely, which not many snusers want! He also taught me that nicotine is water-soluble and is therefore absorbed by all the mucous membranes of the mouth via saliva. Recently, he has also explained that the part of the mouth that absorbs nicotine the least is the gums, which is because the gums contain keratin, which is a substance that we have in e.g. nails and hair. Since my invention is for eliminating the sting and the cause of damage and irritation to the gums, in particular, all the scientific facts I received from Professor Axell have been very valuable.
Finally, I was able to submit a patent application. Now I have patent approval in Sweden and the USA and a so-called "intention to grant European patent" covering 39 countries in Europe. In 2014, I resigned from my well-paid job as a financial manager in Lidingö city to become a full-time snus inventor and started B-O Wiberg Solutions AB, which then changed its name to Sting Free AB. In 2017 I got to go to New York City and received the international award "Most exciting newcomer to the industry" and the Golden Leaf Award at the Global Tobacco and Nicotine Forum with the motivation that Stingfree was the biggest snus innovation since the invention of the portion snus, and that the removal of the snus well known stinging can help convert millions of smokers to harm minimization by switching to snus and nicotine portions instead of cigarettes."
Link to that event: https://youtu.be/tXv0QCRYrsc
What was your first snus?
My first snus was the loose snus Grov. I was in my early teens and was invited by an older friend. It burned like fire but gave a nicotine kick that made me groggy."
Do you have a funny snys anecdote?
"When I got the rock legend Slash in Guns N' Roses to praise the Swedish snus in Rockklassiker in January 2022 as the reason why he stopped smoking for good." See article and video: https://snusforumet.se/en/guitar-hero-slash-snus-the-best-discovery-in-the-world/
Another anecdote is that I had another rock celebrity, the percussionist Pitti Hecht of The Scorpions, show me a drum solo on my Stingfree snusbox, ie a snusbox can be a musical instrument: https://youtu.be/auy8ErxiKNw Another celebrity anecdote is "The Confession of the Lips" by Hollywood actor Stellan Skarsgård 😊." See picture:
Article clipping provided by Bengt Wiberg.
How do you know Curt? How did you get in touch?
"My brother-in-law happened to be acquainted with Curt's partner Meg Tiveus, and since Meg was on the Swedish Match board, I got to meet Meg, and then we had lunch together at their home with Curt. That's when Meg mentioned that Curt was the one who invented the portion snus. The rest of the afternoon we talked about my innovation Stingfree snus. Meg then arranged for me to have a meeting with Swedish Match North Europe CEO Joakim Tilly and the head of research, as well as deputy CEO Lars Olof Löfman, to present the Stingfree technology and answer questions about it. Curt and I continued to keep in touch and have talked about snus and innovation ever since. I have learned a lot about the history of snus and Swedish Match from Curt. Curt liked the idea of ​​a burn-free way to use snus right from day 1. He said that all people using snus have at some point offered a foreigner a 'prilla' (snus-pouch) and laughed at how they complain about the sting and then get dizzy and quickly consign the prilla to the trash. Curt is convinced that a percentage of the world's smokers could be more easily converted to snus or nicotine portions if it didn't sting initially. Curt is so excited about Stingfree that a couple of years ago he nominated my invention as a candidate for the prestigious Michael Russel Award at the Global Forum on Nicotine. Both Curt and Meg have also been shareholders in Sting Free AB for a year now".
Interview by Emelie Conrad, Autumn 2022
Editing by Emelie Conrad, Ellinor Vejlens, Johanna Tengblad, and Katarina Lindqvist
#snus #CurtEnzell #portionssnus #snusochtandsticksmuseum #BengtWiberg